Malkin Is Scary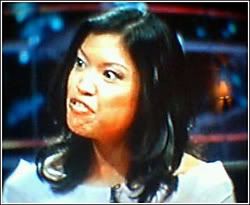 This is a really scary person... The Iraqi need to be very afraid... Very... Very... Afraid...
She said this week that she was personally going to Iraq to prove how much progress they are making and how safe it is... Like, I said... This is a very scary person... - fc
Update ::
Malkin asks ::
What's so funny about going to Iraq?
I think she is mad because people are making fun of her... That's funny...